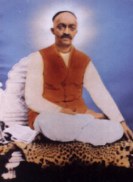 Narayan Maharaj was born on 20th May 1885, at Bagalkot in Karnataka. His early childhood was full of calamities. He lost his father, when he was hardly 14 months old and lost his mother when he was four. As a worldly duty his grandmother looked after him. His sacred thread ceremony was performed at the age of nine. His grandmother was planning to appoint Narayan as her heir, but it created problems with the other relations and he was also not interested in any material acquisition. He left his grandmother's place and all his relations, as he was keen on establishing the only relationship with Lord Dattatreya. After leaving home he took rest for the night in Shiva's temple, but no one came to enquire about him.This proved to be an important event to break all the worldly ties for him. Whatever is destined to take place must take place. Suffering is a great blessing in disguise, it has the ultimate objective to bring sufferer on the path of love and realisation.
His life was full of hardships, trials and traumas but he had the absolute and unflinching faith and devotion for Lord Dattatreya, hence he had no fear of any kind.
There are many incidences which prove that the unseen divine hand was constantly guarding him in many ways. When he was just 12 years of age, he was residing in Lord Shiva's temple. Everyday for more than a week a tiger was coming to the temple, bowing to the Lord and touching Narayan's feet, who used to be meditating in the corner. Once when he was deep into meditation, the roof of temple collapsed. He protectively covered over the Shivalinga. The Shivlinga (Lord Shiva's Idol) and Narayan, both were saved. Once while meditating in the riverbed seated on a big rock, the river got flooded all of a sudden, water level was increasing menacingly, however instead of flowing over the rock, water currents took the detour leaving Narayan safe and untouched.
He was going through a dense forest, where leave aside human beings even animals were hesitant to stir out. Narayan was extremely thirsty. Suddenly a horse rider came from nowhere showed him the spring water and disappeared. Once he was sleeping under the tree and a large snake encircled his legs. Fear did not enter Narayan's mind. After a while it started raining incessantly and the snake loosened its grip from his legs and went away.
Hundreds of incidents like these happened in Narayan Maharaj's life, which gave a glimpse of the Divine power standing behind him. He was asked by a Saint to go to Gangapur and serve Lord Dattatreya. He was in Gangapur for about 10 months and Lord Dattatreya showed him the definite and fearless path to achieve his cherished goal. At Gangapur he completely and earnestly surrendered to the Lord and the Lord made His abode in his heart.
While moving from place to place, he came to Bet and heard the conversation of a pair of Pingla birds, "This place was sanctified by the brief stay of Lord Ram. This is a Holy Land, where thousands will get food and true satisfaction". So the 4 hectares of land was taken by Maharaj to create the place for his divine service rendered to humanity.
He created a magnificent township in 4 hectares of land at New Bet, which was known as Narayan Nagri, adorned by the majestic temple of Lord Dattatreya. The place was abound with spiritual bliss. Lord Shiva's temple, Sadhana (Practice) place for Maharaj, a large Dharamshala (Rest house) for devotees and many small cottages were built by the devotees, who wanted to live near the Master. Distribution of free food everyday to thousands of people and chanting the Lord's name made the whole place pristine and divine.
Maharaj had all the 'siddhis' or spiritual powers at his command, but he never used them for himself but there are many instances where these spiritual powers came into use on their own as result of his spiritual perfection.
The voice of Smt. Anjanabai who was a singer of reputed fame was miraculously restored, a ship and its owner were rescued from the cyclone storms with his divine intervention. A famous doctor was pulled back from jaws of death by a mere glance from him. Limited food was prepared for few, when covered by Maharaj with a cloth was more than sufficient to feed thousands of people and still remained in the utensils. Drunkards were inspired to leave the alcohol forever by the mere glance. He saved a devotee and his car from falling into river by physically appearing in front of the car. He cured many incurable diseases and helped thousands of families by giving food, clothes, medicines and education.
He organised many religious ceremonies at New Bet between 1928 to 1935, when communication and transport facilities were non-existent in this remote place. He had outstanding organizational skills. The ceremonies were so flawless, perfect and divinely inspired. The scale, grandeur, serenity and purity was so profound on all these occasions that everyone felt, that God Himself was present there.
His message was very simple and practical, "Treat every being as God." Chanting of Lord's name was so dear to his heart that his basic advice to his devotees was "Chant God's name and experience the bliss".
His devotees were renowned Doctors, Advocates, Professors, Artists, Kings of erstwhile Indian States and Nepal and a number of foreigners. But he was a Saint for the under privileged, weaker and poor people.
He was a Perfect Master and was known far and wide. He traveled to religious places – Varanasi, Kedarnath, Badrinath, Nepal, Omkareshwar, Mahakaleswar, Rameshwar, Madurai, Chidambaram, Shiv Kanchi, Vishnu Kanchi, Tirupathi, Ramakrishna Ashram, Calcutta, Banglore, Mysore, Dwarka, Somnath, Dakornath, Shri Gokarna Mabaleshwar and host of other places.
From 1942 his health started falling, for a change of weather he decided to go to Ottacmond. Whenever he used to leave on earlier occasions his parting words used to be "I will be back soon"; but this time while leaving his words were, "I am going". But no one could grasp the meaning at that moment.
Ottacmond did not suit him. He came to Bangalore and in spite of failing health he decided to organize 'Ati Rudra Swahakar' to Lord Mallickarjun (a form of Shiva). State of Mysore made outstanding arrangements. He performed the Maha Pooja (grand worship) and gave Mantra for chanting to the large gathering of the devotees and returned to his chamber without visiting 'Yajnashala' (a place for fire sacrifice) due to complete exhaustion. The whole ceremony was conducted in an exquisite style, without any slackness in the presence of around 1,00,000 devotees. After the completion of all Poojas (worships), Maharaj was given the message. He was in Padmasan (Lotus posture in Yoga).
Before anyone could realise, he took a long breath and finished his mortal journey on 3rd September 1945.
Though Mysore State arranged an aircraft for carrying the body to Bet, devotees of Bangalore were not ready to part with the body and wanted to have his Samadhi Mandir at Bangalore. Mysore State gave two acres of beautiful land near the lake, where his mortal remains were buried and now a beautiful Samadhi, where the Sadguru is resting, came into existence. Even today at Bet, the vibrations can be felt of the presence of this Master and He is still helping scores of devotees, who ardently call on him.
Dattavtars: Shripad SriVallabh   Sri Narasimha Saraswati    Shree Swami Samarth   Sri Sai Baba of Shirdi
The Perfect Masters :
Gajanan Maharaj of Shegaon , Shankar Maharaj , Hazrat Tajuddin Baba ,  Hazrat Babajan , Meher Baba
Shri Upasani (Baba) Maharaj , Shri Manik Prabhu Maharaj ,  ParamSadguru Shree Gajanan Maharaj of Akkalkot
Shri Krishna Saraswati Swami, Swami Swaroopanad of Pawas, Shri Vasudevanand Saraswati Swami Maharaj